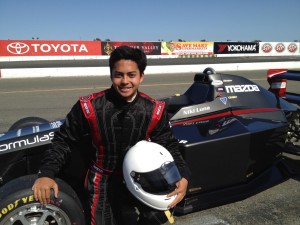 FormulaSPEED2.0 Test Day Provided to World Speed Motorsports Rising Star Award Winner
2012 marks the first year that the award is presented in the FS2.0
Niki Luna Red Line Oil Karting Champ tested in the Mazda powered FS2.0 The World Speed Motorsports Rising Star Awards have been helping career minded racers move up the racing ladder for years. The award has always included a free test with WSM, and has been presented to racers that WSM believed had what it took to become a pro driver.
Some of the past winners have included Scott Speed, Joey Hand, Joel Miller, Cole Whitt, Michael Self, Conor Daly, Ryan Phinny, Neil Alberico, Court Vernon, Michael McDowell, Brad Coleman, and Sage Karam. Many of these drivers have gone on to win in upper level open wheel, stock car, and sports car races all over the world.
Niki Luna, the winner of this past season's WSM Rising Star Award, was provided with a test at Infineon Raceway this April in the FormulaSPEED2.0. Luna, who is one of the Bay Area's top karters, won a Red Line Oil Karting Championship in 2011.
When asked how the test went this is what Luna had to say, "I had a blast! I was getting more comfortable with the car and track with each lap. The car felt great and I really enjoyed the power behind it. The team was very professional and helpful, from the shop's organization and cleanliness to the driver coaching. I want to thank World Speed Motorsports for the opportunity to test the FS2.0 and hope to participate in more test days and begin racing with World Speed Motorsports in the near future."
"Niki did a great job of making the transition from karts into the FormulaSPEED2.0." noted World Speed Motorsports Team Owner Telo Stewart. "We were glad to be able to provide him a sample of what the future holds for him, and we look forward to seeing where he goes from here."