18 races with three different sanctioning bodies, 7 different tracks, and lots of crew and drivers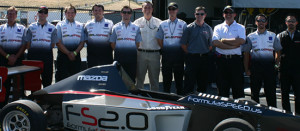 In only four months World Speed Motorsports has sent drivers and crew to race with IMSA, SCCA, and NASA Pro Racing at tracks all over the country. So far the team has visited Phoenix International Raceway, Thunderhill Raceway Park, Buttonwillow Raceway Park, Mazda Raceway, Auto Club Speedway, Infineon Raceway, and Sebring International Raceway.
These have all been multiple car events, except for the Sebring race which featured Star Mazda champion Chris Cumming in his new GT3 Porsche. "Running 18 races over 16 weeks and bringing home multiple wins and podiums is a testament to the people we have on our team," stated Operations Manager Mark Milazzo. "This kind of schedule is not for the weak." This team is heading to Mazda Raceway Laguna Seca today with four cars to participate in the SCCA Double Regional.