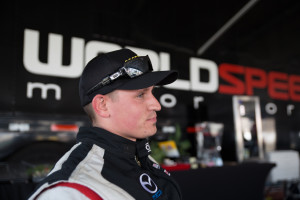 World Speed Motorsports announced today that Dan Swanbeck will be joining the team to make a run for the 2016 FCC National Championship in the Pro Formula Mazda class. Swanbeck is 2015 SCCA Western Conference Champion in the Formula Ford class, and is also the 2013 NASA E-mod Champion. In 2015 Swanbeck raced in two Formula Car Challenge races in the FormulaSPEED class, and scored podium finishes in both.
Telo Stewart WSM President: "We are very excited about all of our 2016 programs, especially the Formula Car Triple Crown. We are going to have great competition in both the Pro FM and FormulaSPEED classes and World Speed is going to have real contenders in both. Dan ran with us last season in the FormulaSPEED, and has tested with us in the Pro Formula Mazda. He has the speed and the talent to win, and has proven that in a variety of different racing situations."
Dan Swanbeck: "I am very excited to once again join World Speed in the Formula Car Challenge. My experience working with World Speed has been second to none and the FCC Triple Crown will play an instrumental role in my career development. I look forward to another season for Daniel Swanbeck Motorsports and all those who have helped and supported along the way."
The 2016 Formula Car Challenge Triple Crown National Champion is determined by best performances in the 6 races that make up the FCC Triple Crown. The first two races take place on the July 4th race weekend at Portland International Raceway. This event is considered the Oregon region's premier event, and is part of the SCCA US MAJORS Program. In September, the Formula Car Challenge presented by Goodyear has a featured double header during the GoPro Grand Prix alongside IndyCar at Sonoma. The final two races take place at the Pacific Coast Road Racing Championships (PCRRC) in October at Auto Club Speedway. 2016 Triple Crown Champions are automatically qualified as semi-finalists in the MRT24 $100,000 scholarship program.
More information: