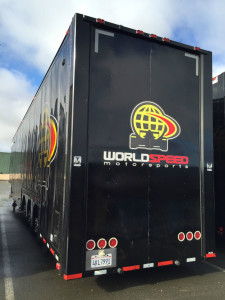 World Speed crew members are on a flight to Salt Lake City today in preparation for the Star Mazda Series race at Miller Motorsports Park in Utah May 13th-16th. Stan Kohls and Dave House, both of whom have driven the track in the past, will be flying the World Speed banner at this prestigious event.
Meanwhile, WSM crew members are finishing up building a brand new 2009 Pro Formula Mazda for Renny Damon. May 22nd to 24th Renny Damon and Vince Gaddini will head to Thunderhill Raceway for the SCCA Triple Header. Damon's new car has all of the latest updates that are not yet homologated for FA, so he will compete in the FS class, while Gaddini runs in the Formula Atlantic class.
When the transporter returns to headquarters it is only for a couple of days as the team is expecting to load up nine Pro Formula Mazdas for the Molecule Formula Mazda Challenge double header May 30th-31st at Thunderhill Raceway Park. "We expect this weekend to be one of our most well attended events so far this season," stated series Official Ben Hettema. A test day is scheduled for May 29th as the race will be held on the "Lil Red Nuht" configuration which is Thunderhill backwards. More than 20 competitors are expected to take the green at this race.
The Molecule Formula Mazda Challenge is a regional Star Mazda series sanctioned by NASA that keeps costs in check by limiting travel to a general region. The MOLECULE Formula Mazda Challenge is operated by World Speed Motorsports and is in it fifth consecutive season.