World Speed has been busy the past few weeks with a multitude of projects and track days. Today the team is getting prepared for an upcoming test at Miller Motorsports Park and for the Star Mazda race that will take place there on May 16th. Here are some of the other happenings around the shop.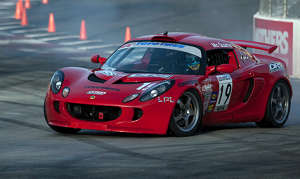 Lotus Challenge Project
Tom Hughes part owner of the Lotus Challenge Series had his Lotus Exige in the World Speed shop for a couple of weeks, and then did a couple of back to back test days at Infineon Raceway. Michael Doyle World Speed's Technical Director spent a week measuring the car and developing an alignment before 2001 Star Mazda Champion and Standing Start Manager Scott Bradley jumped in and ran the car through its paces. The car is quick and features special uprights, and Ohlins TTX shocks. More mechanical and aero testing is being planned for this summer.
New Star Suspension Updates and Testing
Stan Kohls and Andy Brown have been updated to the latest 2009 spec Star Mazda suspension kits, and they spent a day at Thunderhill working on their setups. Stan Kohls worked with WSM Technical Director Michael Doyle, and Andy Brown worked with Standing Start coach Ron White. The drivers are preparing for May races at Miller Motorsports Park and Thunderhill Raceway. Both drivers tested the entire day on the Lil Red Nhut track configuration that they will race on at the end of May.
2009 New Car Builds
World Speed mechanics are hard at work building a couple of new cars including a Z06 Corvette Blue 2009 Pro Formula Mazda for Renny Damon, and a fresh car for Dave House for the upcoming Star Mazda race at Miller Motorsports Park. Jim Mali a Standard Formula Mazda driver in the Molecule Formula Mazda Challenge is having World Speed build a Pro Formula Mazda that he will be testing in May.
World Speed Receives Green Business Certificate of Distinction
World Speed Motorsports was acknowledged by Sonoma County as the first business at Infineon Raceway to become certified green by the Bay Area Green Business Program. A ceremony took place at the chambers of the Sonoma County Board of Supervisors on April 14th.
The Bay Area Green Business Program verifies that businesses meet higher standards of environmental performance. Their partnership with government agencies and utilities helps local businesses comply with all environmental regulations and take actions to conserve resources, prevent pollution, and minimize waste. Seven other Sonoma County businesses were accepted into the program as well. "We found a great new printing company in the program that shares our values and provides a great product," stated WSM President Telo Stewart. "We check the Bay Area Green Business guide first when we are searching for new vendors."