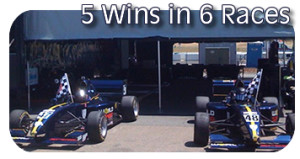 This past weekend was the Memorial Day weekend SCCA triple header at Thunderhill Raceway. World Speed brought two cars to the event. Vince Gaddini drove in the Formula Atlantic class is his 2008 #48 Pro Formula Mazda, while Renny Damon raced in the Formula S class in his 2009 #47 Pro Formula Mazda.
Damon could not compete in Formula Atlantic as his new car would not meet the criteria for that class. "The current Star Mazda spec wings are outside of the legal parameters found in the SCCA rules for Formula Atlantic, and so as our cars get upgraded to Star's new wing package we will need to compete in the FS class," stated Operations Manager Mark Milazzo.
Running in two different classes gave the World Speed drivers the possibility of six wins over the weekend, and the team did not disappoint. Gaddini won three out of three, and Damon took home two out of three possible wins finishing in second in the last race. "Both our drivers did an exceptional job all weekend, and we are looking forward to running more SCCA weekends with them this season," stated Team Owner Telo Stewart.
The team is gearing up for another trip to Thunderhill this weekend with eight cars to contest the Molecule Formula Mazda Challenge double header.