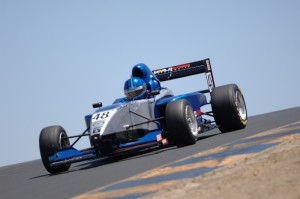 This weekend was another exciting Russell Pro Series event. 15 drivers attended the weekend, and Vito Racano had his first win of the season. Not satisfied with only one win, Vito went on to secure the pole and the win on Sunday.
Stan Kohls the 2005 Russell Pro Series Champion was able to lock the 2006 Championship this weekend by accumulating 18 points for the #8 car over the 2 races. Vito Racano locked in 2nd place in the series this weekend as well. The battle for third is yet undecided between Larry Schnur, and Jim Mashburn.
Stan and Vito weren't the only drivers that had exceptional things happen to them over the weekend. Chris Cumming was able to lock in his first pole position on Saturday, and Paul LaHaye finished 2nd place on Sunday on tires that had already been well used in Saturday's race. "Paul had flat spotted his tires in qualifying, and had to choose between running his old race rubber or going to new tires and starting from the back. Having qualified well, he decided to use his Saturday tires and go for it. Obviously that strategy worked well," stated Team Owner Telo Stewart.
The Russell Pro Series Championship had 20 drivers participating in 2006, and for 2007 additional drivers are already signed up for the season. "We are expecting an even better program next season, with some big events added to our usual Formula Mazda Challenge weekends, said Team Manager Mark Milazzo. The growth of the series has been exciting for the team and drivers, and now other entities have been looking at what we are doing and are looking for ways to work with us. With us getting the new shop completed in the off season, and all the other exciting things happening around us we are already looking forward to the start of next season." The next Russell Pro Series event is a single race weekend October 21st.