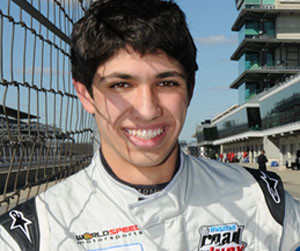 World Speed Driver Kyle Kaiser Successful at the "Night Before the 500" Rookie Presented with Hard Charger Award at the First Oval Race of His Career
Kyle Kaiser was presented with the Quartermaster Hard Charger Award this past weekend at the "Night Before the 500" race at Lucas Oil Raceway Park. For much of the evening it looked as though the weather might be an issue. Fortunately the clouds eventually parted and a delayed and shortened 52-lap race was run late into the evening.
"This was a successful first oval race for Kyle. We had a challenging weekend, especially in qualifying when Kyle had a big slide that cost us at least half a second, but in the end Kyle did exactly what he needed to in the race. He made some good assertive passes early on, and drove a good consistent race to bring it home in 7th," stated World Speed Motorsports Team Owner Telo Stewart.
The "Night Before the 500" has long been a focal point of the open wheel community dating back to the early 1960's when racing legends such as AJ Foyt would take part in the event prior to racing in the Indianapolis 500 the following day. In fact, Foyt was the first winner on the Lucas Oil Raceway Park oval in 1961, and then went on to secure his first Indy 500 win a few days later. Other past winners include Johnny Parsons, Jeff Gordon, and Kasey Kahne.
Kaiser is currently 6th in points in the championship with five of sixteen races completed. Next up on the schedule is the Milwaukee IndyFest on the famous Milwaukee Mile oval on June 12th-15th.