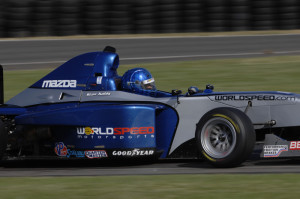 This weekend was the seventh of nine race weekends for the Russell Pro Series. In Saturday's race Stan Kohls was on pole, and battling closely with Mike Guasch. Guasch got by at one point and threw up some rocks that were on track. Kohls got by the #91 one lap later, but one of the errant rocks tore threw the radiator screen and radiator sending the #8 back to the garages. Guasch inherited the win, Chris Cumming finished second, and Larry Schnur was third.
After assessing the damage it was determined that the #8 would not be able to participate in Sunday's race. The team looked at the options, and called Frank McCormick who was not attending Formula Mazda Challenge 7 to see if they could use his car for Sunday.
"It was awfully nice of Frank to let me use his car, said Kohls. I was really surprised how much Frank's car was like mine."
"The guys made a throttle cable adjustment, installed Stan's seat, and adjusted the belts and Stan went and put the car on pole, said Mark Milazzo. I think that says a lot about the parity of the cars."
Kohls went on to win the race, Chris Cumming finished second, and Paul LaHaye rounded out the podium. The next Russell Pro Series race weekend takes place September 16-17.