Practice Days with Aggie Engineering Students
My season in the Pro Mazda Championship Presented by Cooper Tires continues, and there's always something interesting around every corner. The latest item on the agenda was a couple of practice days at MSR Houston. The first day was spent on the skid pad for a few sessions and then on to learning the full track in the afternoon.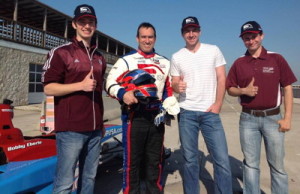 The next day was packed! A couple of weeks ago, I spoke at Texas A&M's Society for Automotive Engineers, and I invited some of the students down to see what a real pro practice is like. We had a blast and covered a lot of information in what turned out to be a full and exciting day.
The students began their morning with a lecture from World Speed Motorsports race engineer Mike Doyle. If they were looking for information, they received a ton from Mike. I went over data analysis with them as well. I touched on this topic during my speech at the university, but now they could see the real thing from my practice sessions. The students also were able to listen in on the debriefs that followed each and every session. There were plenty of questions asked, and I was thoroughly impressed with their knowledge and enthusiasm.
It wasn't all work, of course. Each of the students was able to check out the race car up close and get a real feel for the sitting position, controls, and pedals. We even hooked the car up to the computer, so they could get even more feedback. We ended the day with a couple of go-kart sessions, and everyone had a blast. There were only a couple of off-track excursions, but we won't mention those.
Here's what Aggie Gill Lipton had to say: "From talking with the mechanics about how visible design decisions affect performance to peering over the chief engineer's shoulder to see his awe-inspiring Excel spreadsheet, I was able to see the applications of engineering to motorsports. I just could not get enough. … The crossroads of the academic and the actual that is race engineering has been pushed further up the pedestal of my career aspirations, thanks to you and the World Speed Motorsports team. I thoroughly appreciate all your work to improve engineering education at Texas A&M, and cannot wait to see what the future holds for the program."
Originally posted by Bobby Eberle 04.21.2014 – more info…