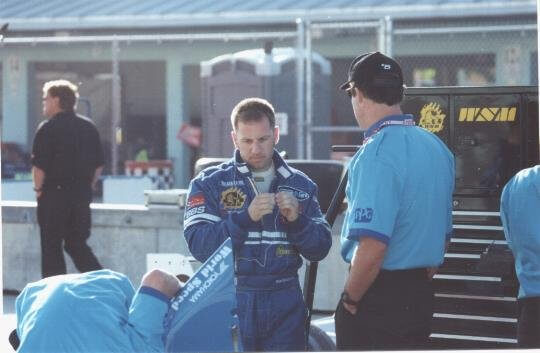 Palm Springs, Calif. – Chuck West, owner of World Speed Motorsports, today announced that Pete Mercier has signed to drive for the team in the 2000 CART Toyota Atlantic Championship series. Mercier, 25, will drive the #14 Swift 008.a in his first season of Atlantic competition, with support from Northwest SpeedWerx.
"I've known Pete for several years and have seen him do some pretty remarkable things with a race car," said West, who is entering his seventh year as an Atlantic team owner. "While he's a relative newcomer to professional racing, he's been a consistent front-runner in Formula Mazda and Barber Formula Dodge. We've been testing him pretty extensively for the last month and he's already coming to terms with the Atlantic car. Our first priority is to go for the rookie title in 2000, which means running in the top five as well as capturing some podium finishes. Pete's very determined, and we feel that we have all the ingredients in place to make it happen."
Mercier, of Las Vegas, Nevada, worked his way into the driver's seat His background includes crew chief responsibilities for the Russell Racing School, engineering a Star Formula Mazda team and car preparation for 1995 Toyota Atlantic Championship winner Richie Hearn. Behind the wheel, Mercier has been a winning driver in shifter karts, Skip Barber Formula Dodge and the Russell Racing series. He has served as a driving coach for Star Formula Mazda competitors and currently instructs at the Derek Daly Academy at Las Vegas Motor Speedway.
"I really have to thank Rick Waddell of Northwest SpeedWerx and Chuck West for their faith, encouragement and support," said Mercier. "I'm one of the few guys around who has been given the opportunity of a lifetime, and I plan on making the most of it. I know I don't have as much experience as some of the others in Atlantic, but I've done well wherever I've raced. We've also been testing pretty heavily and everytime I drive the car, I feel more comfortable with it. That Atlantic is very physical to drive, and you have to be ultra fit to drive it as fast as it will go. I'm totally motivated to do whatever it takes to run well this year, and that's what counts."
World Speed Motorsports is considered one of America's most dynamic racing organizations, featuring entries in CART's Toyota Atlantic Championship, as well as the Star Mazda Pro Series. Founded in 1991 by Chuck West, World Speed initially focused on the Formula Mazda series, where West finished third overall and won the Rookie-of-the-Year title in his first season as an owner/driver. 1992 resulted in the series championship by virtue of West's five wins, ten podiums and three track records.
Since then, World Speed has captured six Formula Mazda championship and five pro series Rookie-of-the-Year titles under West's guidance and Mike Doyle's engineering expertise, featuring such drivers as Ben Massey, Pete Wise, Mike Conte, Mikel Miller, Jeff Bucknum and Grant Ryley.
World Speed entered the Toyota Atlantic series in 1994, and currently holds the Atlantic qualifying record at Homestead Motorsports Complex – set in 1997 with West behind the wheel. Most recently, World Speed campaigned French-born Brazilian Nicolas Rondet in 1999, capturing a podium finish at Trois-Rivieres, and averaging a top five running position at every race.
Northwest SpeedWerx was established by Waddell to identify aspiring young drivers and assist them with the resources and promotional guidance to move their careers forward through participation in a multi-year driver development program. Focusing on CART's ladder system, including the Toyota Atlantic Championship and Dayton Indy Lights Series, the goal of Northwest SpeedWerx is to train the next generation of drivers for competition in the CART FedEx Championship.
The 12-race 2000 CART Toyota Atlantic Championship season begins with a double-header at Homestead Motorsports Complex near Miami, Florida, on March 25-26, part of the Marlboro Grand Prix of Miami CART FedEx Championship weekend.