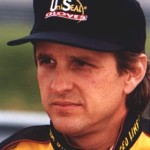 Champions from all three levels of the Mazda Road to Indy were honored this past weekend in the Championship Celebration banquet at the Monterey Plaza Hotel. A total of more than $2.3M in Mazda Scholarships and other awards was distributed.
The evening also included the induction of several new members to the Mazda Road to Indy Hall of Fame. World Speed Motorsports founder Chuck West was inducted alongside the founding fathers of Indy Lights, U.E. "Pat" Patrick and Roger Bailey. Also inducted were Peter Dempsey, Tonis Kasemets, and Spencer Pigot.
West was vice champion in the inaugural season of the Pro Mazda Championship, and went on to win the championship the following year (1992.) As a driver, West went on to podium in the Toyota Atlantic series multiple times. He focused on building World Speed Motorsports' Pro Mazda Championship team until 1997 when current WSM owner Telo Stewart joined the team to manage that program. West's guidance brought the team countless wins in the PMC series, and the team never finished lower than 2nd in the championship during his time as team owner. With West's guidance the team also went on to additional podiums in the Atlantic series, including a win at Gateway International Raceway.