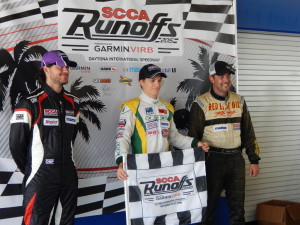 World Speed Motorsports announced today that Formula Mazda National Champion Joseph Burton-Harris (JBH) will be joining the team to make a run for the 2016 FCC National Championship in the Pro Formula Mazda class. The 2016 national champion is determined by best performances in the 6 races that make up the FCC Triple Crown. The first two races take place on the July 4th race weekend at Portland International Raceway. This event is considered the Oregon region's premier event, and is part of the SCCA US MAJORS Program. In September, the Formula Car Challenge presented by Goodyear has a featured double header during the GoPro Grand Prix alongside IndyCar at Sonoma. The final two races take place at the Pacific Coast Road Racing Championships (PCRRC) in October at Auto Club Speedway.
Telo Stewart WSM President: "We are very excited about all of our 2016 programs, especially the Formula Car Triple Crown. We are going to have great competition in both the Pro FM and FormulaSPEED classes and World Speed is going to have real contenders in both. Joseph has shown real speed in FM,  and we know it will transfer to the faster car."
Joseph Burton-Harris: "We saw the Formula Car Challenge with Worldspeed as the perfect stepping stone onto the Mazda Road to Indy and a great introduction to the Pro Mazda! I cannot wait to compete in the USA again and race on world class tracks that I've never been to before. Hopefully we can repeat our success from last year's Go Pro Indycar Grand Prix of Sonoma, however a new car equals a new challenge and therefore I am doing my best to prepare physically and mentally for round one at Portland."
Burton-Harris' successful karting career started with multiple state championships as well as podium finishes in three national titles. Racing in Australia, Germany, France, and Portugal provided Joseph with the perfect start to his racing education, leading the field against some of the best Junior drivers in the world.
JBH came to the United States in 2014 to pursue the dream of becoming a full-time professional racecar driver and has made an enormous splash in a very short period of time. "After watching JBH beat some of the fastest Formula Mazda racers on the west coast I was impressed," noted series official Mark Milazzo. "I was even more impressed at his professionalism off track. When he won on to win the SCCA Runoffs in the Formula Mazda class, that clinched it for me. This guy is the real deal." JBH has competed and won in both SCCA and NASA Formula Car Challenge events, and was chosen by Mazda Motorsports as a finalist in the Mazda Road to 24 Shootout last season. 2016 Triple Crown Champions are automatically qualified as semi-finalists in the MRT24 $100,000 scholarship program.
More information: