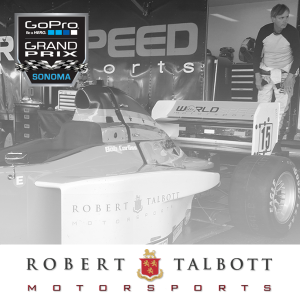 Monterey— September 16, 2016 — Today at the GoPro Grand Prix of Sonoma, Bob Corliss, President and CEO of Robert Talbott, Inc. announced that Robert Talbott Motorsports would have two Pro Formula Mazdas racing on the historic Sonoma Raceway course, September 16th  through September 18th.
"I'm looking forward to a great weekend driving for the World Speed Motorsports team and with my friend Steve Baumhoff. It's my first time in this particular car, and first race on this track, which should be both challenging and exciting!" said Corliss.
With a big spectator turnout expected Robert Talbott will be prominently featured, and should be easy to spot. Bob Corliss will be behind the wheel in the Pro Mazda number 15 and teammate Steve Baumhoff will be driving the Pro Mazda number 61.
For more information visit: