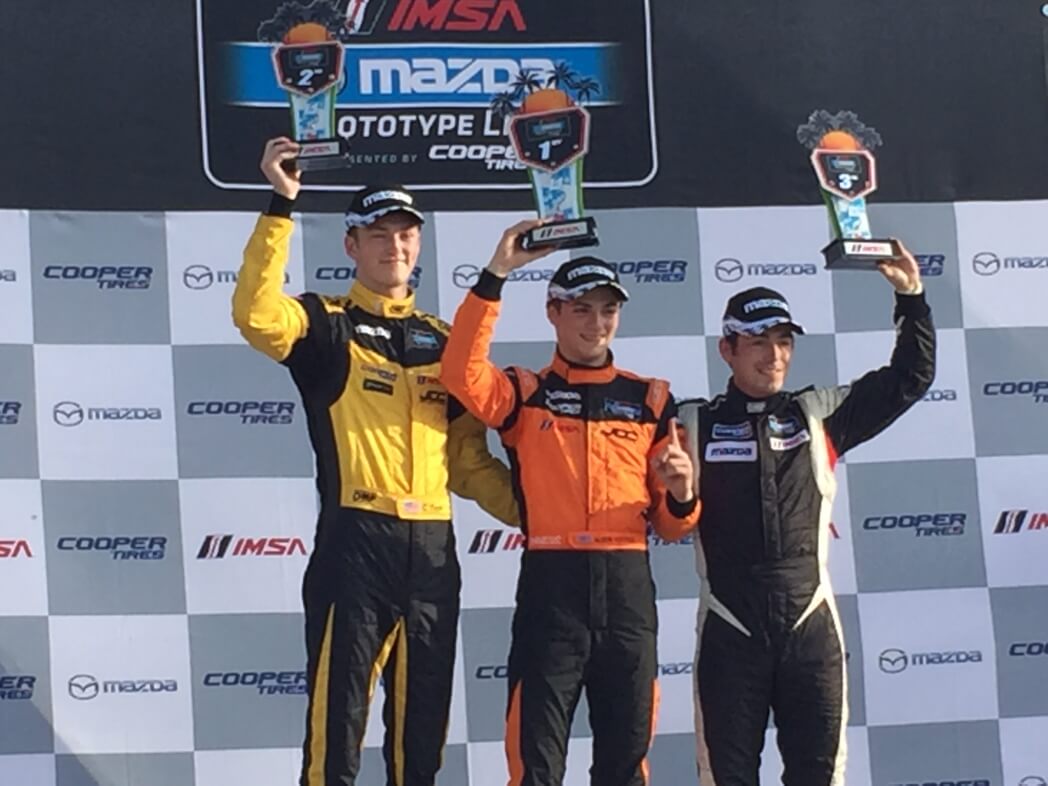 Michael Whelden earned his first career Mazda Prototype Lites Presented by Cooper Tires podium this past weekend at Sebring International Raceway. Whelden was supported at the double-header by World Speed Motorsports. Whelden has won three Formula Car Challenge championships with World Speed, and in 2013 was a finalist in the Mazda Road to 24 Shootout.
Whelden came just shy of getting on the podium in race one.. He finished in 4th position, and his lap times secured him a front row starting position for round two. From the green flag to the checker Whelden raced with the top drivers in the series and finished just 1.6 seconds behind the race winner after a 45 minute battle. Whelden is now solidly in 4th place in the championship after two rounds.
#14 Michael Whelden: "I couldn't be any happier right now with how this weekend has gone, from showing up and never having driven the car, never been to the track. The team is pretty new to the car even though we know Mazda products well. From where the car started, setup-wise, to where we got it was an absolute miracle, almost. The first race, I finally got some clean space to get a good lap time, which got me up front for the second one. From there, it was just a dogfight to stay up front. Kyle Masson, I knew I had to get by him to keep up with Pato (O'Ward), Clark (Toppe) and Austin (Versteeg). It was my only chance. I got him going down into (Turn) 17, and from there, I just put my head down and tried to drive back into the race. I was hoping for a little more interaction from Clark, Austin and Pato. They delivered; they delivered a heck of a 45-minute race, and I got involved, too. We had a four-car battle. I couldn't be happier. Huge thanks to World Speed, huge thanks to everyone who has put this together – IMSA, Mazda, Cooper Tires, Élan for building these cars."
World Speed Inc. President Telo Stewart: "This event was something that we have been working on for months, and if you would have asked me three weeks ago if it was going to happen I would have given it about a 10% chance. When Michael Whelden got things in line on his end we really had to push, we didn't even have a car. Our Manager/Engineer, Kevin Harrison, really worked hard on all of the logistics and we were able to put a deal together to borrow a car from Eurosport Racing who we also have to thank.
The entire team was excited about a new program and came together to make it happen – they worked very hard. We had to go through the car, start from ground zero on setup, and be on track in one day. We just kept getting better every session.
In the end Michael's great driving driving made it all worth while. He really is part of the World Speed family and I can't thank him enough for having the faith in us to go with us over a team already running in IMSA Lites."
The Mazda Prototype Lites series presents an opportunity for semi-professional race car drivers to compete in a world-class environment, while also providing an avenue for career minded drivers to move up the ladder into the Prototype classes in the IMSA SportsCar Championship. IMSA Lites offers racers from around the world the opportunity to compete at historic venues like Sebring International Raceway and Road Atlanta. Next on the schedule is Rounds 3 and 4 at Watkins Glen International July 1-2.
For more information visit: