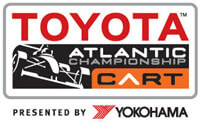 With a welcome return to Laguna Seca and the CART Toyota Atlantic series after nearly a two-year hiatus, Atlantic winner Case Montgomery posted the eighth-fastest time in provisional qualifying for tomorrow's Atlantic race, part of the Honda Grand Prix of Monterey CART FedEx Championship weekend.  Teammate Akihiro Asai, in his first appearance at the challenging 2.238-mile road course, is quickly coming up to speed after posting the 15th-fastest time out of the 25-car field.  Today's 30-minute qualifying session was hampered by two red flag periods, which ended the session nearly five minutes early.
"It's so great to be back at Laguna," said Montgomery, who won from the pole here in 1995, and finished second in 1996.  "I really need to thank Rick Waddell of Northwest SpeedWerx and Chuck West for giving me the chance to race this weekend.  For qualifying, the car was a little too loose, plus the red flags interrupted the rhythm.  But we only need one good lap tomorrow.  I'm still having a great time and everybody in the series has given us such a warm welcome back."
Asai, behind the wheel of the #15 WSM/ProStaff/G. Aikokuya Swift 008.a has progressed impressively with each successive lap.  "This is my first time here and the track is pretty tricky.  More time on the track is showing that I can do better.  It's too bad the qualifying session was cut short.  I really wanted that last lap.  I was just feeling like I was going in the right direction, but there's always tomorrow."
Montgomery, driving the #14 World Speed Motorsports/Northwest SpeedWerx/Intercat/ Walker Racing Swift 008.a, set a fast time of 1:21.181.  Asai's time of 1:22.363 is good for an average speed of 97.821 miles per hour.  Dan Wheldon took the provisional pole with a time of 1:19.704, followed by David Rutledge (1:20.094), Andrew Bordin (1:20.213), Rocky Moran, Jr. (1:20.263) and Buddy Rice (1:20.628).
Tomorrow's Atlantic activities begin with a 30-minute qualifying session at 8:10 a.m., followed by the 30-lap race at 4:00 pm.  The race will be televised via espn2 on Sunday, September 24 at 10:00 am (EDT) with an encore presentation on Wednesday, September 27 at 5:00 am (EDT).