World Speed has a long history of working with talented women open-wheel racers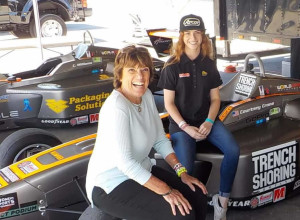 A couple of weeks ago, 1992 Indy 500 Rookie of the Year Lyn St. James spent a day with World Speed Motorsports testing in the GEN2FormulaSPEED. "Lyn is an amazing person to be around and to learn from, it is awesome having her at events with us, and was a real pleasure to put her in one of our cars, stated World Speed President Telo Stewart. "Her goal was to practice some racing techniques that are specific to modern open-wheel racing cars, and she was able to reach these goals by spending a day in the FormulaSPEED."
Lyn started her racing career in 1973 and is known for being the first woman to win a solo North American professional road race at Watkins Glen, New York, in 1985. She was also one of five women to successfully qualify for the Indianapolis 500 and the first woman to win the Indianapolis 500 Rookie of the Year award in 1992. Lyn retired in 2001 and wrote a book titled "Ride of Your Life".
As a leading advocate for women in motorsports, Lyn established the Women in the Winner's Circle Foundation in 1994 as a 501(c) (3) non-profit organization dedicated to professional development for talented, up-and-coming young women in racing. St. James recognized the critical need of providing financial resources to these talented drivers. As a result, in 2007, with the support of Paul Newman/Newman's Own, the Women in the Winner's Circle Foundation announced the first ever scholarship fund for women race car drivers: Project Podium.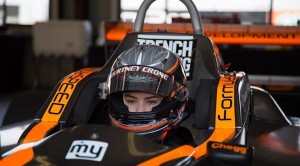 2017 World Speed Motorsports/VMB Driver Development racer Courtney Crone is a Project Podium Grant recipient, and has been working directly with Lyn St. James as she moves her racing career forward. Crone began racing at age four in Karts, and quickly progressed into Quarter Midgets. Courtney went on to become a California State Kids Kart Oval Champion, secure 8 Quarter Midget Championships, and set 2 Quarter Midget World Record Qualifying Times. Trying her hand at 2-wheel competition, Courtney raced Speedway Motorcycles, winning 12 Speedway main events and capturing 2 Youth Speedway Bike Championships. In 2015, Crone moved up into cars and won her 1st Sprint Car and 1st Ford Focus Midget main in her rookie season. In 2016 she won the 2016 Perris Auto Speedway Young Guns Championship in Sprint Cars with six wins, and also won three out of three Formula Mazda races in 2016. Crone was selected as the VMB Driver Development Scholarship award winner for 2017, and is currently competing in the 2017 Formula Car Challenge presented by Goodyear Championship.
World Speed Women Racers Over The Years:
Ginni Swanton – 1995 -1999 Star Mazda Championship
Debbie Girdler – 1995 -1999 Star Mazda Championship
Kerstin Smutney – 2012 Formula Car Challenge FormulaSPEED
Michele Baumgartner – 2013-2014 Star Mazda Championship
Angela Durazo – 2017 FormulaSPEED and FIA F4 Testing Program
Courtney Crone – 2017 WSM/VMB Scholarship FormulaSPEED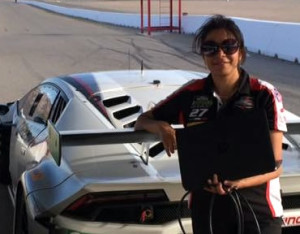 World Speed has also had some incredible women in the front office, and out spinning wrenches in the garage. The most well known would be Renu Malhotra who joined the team in 1996 as a Data Systems Engineer. Malhotra was a key part of the team's Toyota Atlantic effort that scored multiple podiums, and a win at Gateway. Malhotra was also a significant part of the team that developed the GEN2 FormulaSPEED. "Renu is one of the smartest people I have worked with," noted FormulaSPEED Project Manager Mark Milazzo. "I have worked with her on a variety of projects, and situations, and she is able to look at all of the opportunities and find the best solution. She's also just a nice person to work with which makes her a great asset to any team." After World Speed, Malhotra went to work for Hasselgren and helped develop multiple race programs there. Malhotra has also worked with Turner Motorsports, Krohn Racing, and Dream Racing to name only a few. She is currently providing support as an independent consultant on multiple major motorsports programs including AER Indy Lights, and Risi Competizione.
"We are proud of our history of developing female talent in motorsports," stated Team President Telo Stewart. "It takes drive and a very strong personality to be a part of this sport regardless of gender. The women we have worked with exhibit this trait to an extraordinary degree. We recognize how hard it is for anyone to 'break-in', and really enjoy working with passionate people with big goals."
More Info:
Special thanks to Jeffrey Immediato of Speedway California Racing for the cool photo of Lyn and Courtney