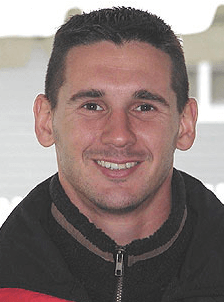 In his first Atlantic race of his professional career, World Speed newcomer Andy Lally captured a 9th place finish for round nine of the CART Toyota Atlantic Championship series in Elkhart Lake, Wisconsin, part of the Motorola 220 CART FedEx Championship weekend.
"This was a great finish for my first Atlantic race. I'm very satisfied with top ten," said Lally, who most recently has been splitting his seattime among three different series where just a month ago he ran at Road America in the Grand Am Series setting the third fastest race lap. "Driving with the World Speed team has been an incredible experience. This is a wonderful opportunity for me and I'm very thankful to Chuck West (World Speed team owner) and to my sponsor Rick Waddell of Northwest SpeedWerx."
Lally started the 68-mile road race in the 10th position after the starting grid was determined from two qualifying sessions on Friday and Saturday. When the green flag dropped Lally made a quick pass on #23, Will Langhorne to claim the 10th position. Lally and Langhorne were battling it out for 10th until the first full-course yellow. After two laps of caution, the track went green once again and Lally moved his way up to 5th, taking advantage of an incident that involved a few cars.
As Lally fought to hold onto his 5th place position, teammate Akihiro Asai, who started 12th on the grid, was losing a few positions. "The car felt okay at the start, but after the first eight laps or so, I had problems with my gearbox. I lost second and third gear," said a disappointed Asai. "I know at one point I was 15th, but towards the end of the race I kept pushing the car and gained a few places." Despite his mechanical problem Asai finished 13th, respectively.
On the re-start, approaching lap ten, Lally was clipped causing some minor front wing damage. "When I was hit, I tapped the wall and slightly damaged my suspension. From that point on in the race the car didn't feel the same," said Lally.
With only seven laps remaining, race officials dropped another caution flag resulting in the second full-course yellow of the 17-lap race. On the re-start, Lally was three-wide with #17 Mike Conte and #9 Hoover Orsi. As Lally and Orsi fought for a position, Conte whizzed by both and took off down the straightaway leaving Lally in 7th. Lally lost another two positions positioning him 9th when the third yellow flag dropped on lap 16 ending the race under caution.
Today's race winner is Buddy Rice (DSTP Motorsports), followed by Dan Wheldon (PPI Motorsports), and Martin Basso (Michael Shank Racing).  With a solid finish behind them, the World Speed team is thinking ahead to round ten of the CART Toyota Atlantic Championship, which takes place at Laguna Seca in Monterey, California, September 9 for the Grand Prix of Monterey.
"I'm really proud of what we accomplished this weekend. The guys have been working so hard. Andy was an ideal candidate for this race. I knew he would be a front-runner here in at Road America. And Aki, despite his problem with car, was aggressive," said West, who just a few years ago captured a 2nd place podium finish and set two records for qualifying and fastest race lap at Road America.
Just a few weeks ago at Mosport Race Park, Lally captured the checkered flag in the Motorola Cup Series driving Comprep Racing Team BMW 328. That same weekend, Lally finished 5th in the U.S. F2000 National Championship Series. He is currently second in the battle for the "Rookie-of-the-Year" title in the Barber Dodge Pro Series and is 4th overall, excluding two missed races at the beginning of the season
The Road America race will be televised on ESPN2 and ESPN International, Saturday, August 26 at 4:00 p.m. and on RDS, Saturday August 26 at 8:30 a.m. All times are Eastern.