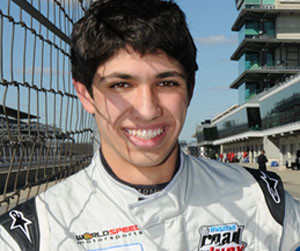 Kyle Kaiser, and the World Speed Motorsports team loaded up the #18 Pro Formula Mazda and headed towards Mid-Ohio this past weekend after the first Canadian leg of the championship. "The Canadian tracks are technical and don't leave much if any room for error," noted Team Owner Telo Stewart. "Kyle is on a two year program, and one of our major goals this year is really getting to know each venue, and learning to adapt quickly to them. While some sessions have been harder than others, Kyle has always been able to bring us a solid finish in the races. These solid finishes have him currently sitting 6th in the championship."
In 2005 World Speed ran a young driver named Ace Carrio through a similar two year program. Carrio went on to win the overall championship for the team in 2006. Kaiser is currently scoring better finishes than Carrio did in his rookie season. "In 2005 Ace had one top five finish, and Kyle has had multiples at this point," added Stewart.
Kaiser is a junior in high school, and the youngest racer in the series. He started his karting career at the age of 7, winning multiple races before moving up to formula cars with Skip Barber Racing in 2010, winning the 2010 Western Region Rookie-of-the-Year title, finishing 2nd overall in the championship. Following a 3rd place finish in the 2011 Skip Barber Western Region Championship Kaiser joined World Speed Motorsports, and captured the Pro Mazda class championship in the Formula Car Challenge. Kaiser won 8 races, and finished on the podium in 11 out of the 14 races in the FCC presented by Goodyear Championship.
Next up for the team is a double header at Mid-Ohio Sportscar Course on August 3rd-4th with the IZOD IndyCar Series. The series will then return to Canada for the Grand Prix Trois Riveres.