JUNE 28, 2013 NEWS FROM eFormulaCarNews.com – (view original post)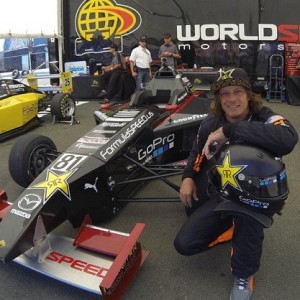 Action sports veteran Bucky Lasek joined the World Speed Motorsports team as a Guest Driver for the recent round of the Formula Car Challenge at Sonoma Raceway. Lasek took time after his Dew Tour victory in route to Germany for the X Games to answer a few questions about his experience in the FormulaSpeed2.0 (FS2.0).
World Speed: Thanks for joining World Speed for the weekend. What did you think of the experience?
Bucky Lasek: It was such sensory overload. World Speed made me feel very comfortable and confident with everything getting up to speed quick.
WS: You're having a tremendous year in skate sompetitions – four big wins already. How does motorsports relate to your skateboarding background?
BL: Skateboarding has given me an outlet of knowing my limits and how to achieve the highest performance in what I do. After years of seat time, motorsports is the best and newest way that I find to test these same goals.
WS – The Formula Speed 2.0 is quite a bit different than a rally car. How did it compare to some of your previous driving experiences?
BL: It definitely compares closer to my shifter kart rather than my RallyCross car. The FS2.0 had a bit more grip and a lot more down force than anything I've ever been in.
WS: Sonoma Raceway is known as one of the most technical tracks in the country. What did you think of the IndyCar configuration?
BL – Learning the car and its limits were very challenging at Sonoma. The track has little room for mistakes and big consequences for those who choose to be fast. It was a very testing weekend for me in many ways in such a short given time to take it all in.
WS: The Formula Car Challenge has some regular competitors and alumni that have gone on to move up the racing ladder. What did you think of the ontrack competition?
BL: Everyone had such great racing etiquette and competition was very close in all classes. I found all the racers very competitive yet easy to talk to – especially within the World Speed pits.
WS: You've worked with a handful of teams in motorsport. What was it like being a Guest Driver with World Speed?
BL: I was welcomed and brought up to speed within one race weekend. Between the techs and coaches, I was never left wondering or in doubt of what I was to address next time out on the track.
WS: Any big learning experiences from the weekend?
BL: I would say learning the initial amount of brake pressure you can apply according to the amount of down force the FS2.0 creates would be the biggest thing I will take away from this experience.
WS: Will you be back for more?
BL: I would book my flight tomorrow if I had the time.
WS – What's next on your schedule of seat time?
BL: I'll be in my #81 Subaru Rally Cross car for the remaining X Games and Global RallyCross races.
WS: Thanks for taking the time – anything else you'd like to mention?
BL: I'd like to thank World Speed Motorsports along with their team of techs and coaches for such a great race weekend and experience.
You can follow Bucky both on the board and in the seat on Twitter and Instagram @BuckyLasek. Tune into the X-Games from Munich, Germany June 27-30 to see Lasek compete in both Skateboard Vert and RallyCross events.