Eberle Puts Together Solid Weekend, Grabs Two In-Class Victories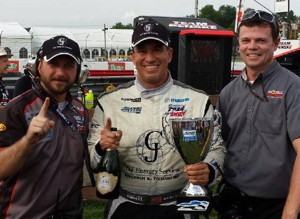 The 2014 season of the Pro Mazda Championship Presented by Cooper Tires continued this past weekend with a double-header with IndyCar at the famous Mid-Ohio Sports Car Course. When it was all said and done, I came away with two Expert Class wins and took the lead in the championship, which is exactly what I was shooting for.
This was the most "complete" weekend I have ever had in pro racing. From the very first session, the team was focused on being competitive, not just with the Expert Class drivers, but with the younger pros as well. And that's exactly what we did!
From the very first session, the #13 C&J Energy Services Pro Mazda was doing well. We made some changes throughout the weekend, but the car felt great. After our first day of practice, we were ahead of three other drivers and were within one tenth of a second from two others. In the following practice sessions, including qualifying, we were faster every single time. That was a first for me!
Race 1 was filled with chaos. From a crash before the first turn of the first lap to multiple full course cautions, there was plenty of excitement. Although my lap times were not up to what we put together in practice, I finished 13th overall and brought home my first Expert Class win of the year. Race 2 started with another wrecked car prior to the first turn of the race, but once that was cleared, there wasn't a single caution flag for the rest of the race. I finished 16th, and put together much better laps, again securing an Expert Class win.
My cousin and his family drove down from Chicago, and we all had a great time in Ohio. They got to see some good racing and see what an IndyCar weekend is all about. As I mentioned earlier, the team and I put together our most complete and competitive weekend yet. There's so much more to do, but this was a big step in the right direction. It's one thing to practice well when no one else is around, but it's quite another thing to get better and better on the time sheets when your competition is there too. Now we can focus on bigger goals and moving higher up into the field.