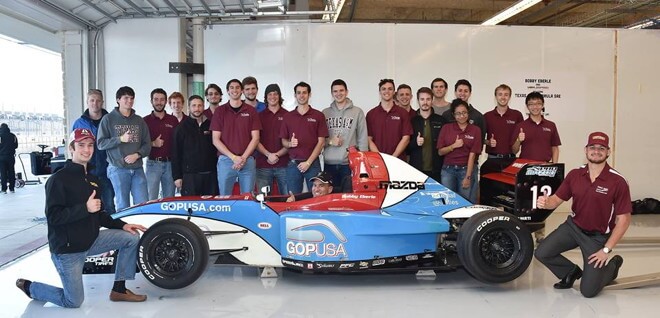 (original post on GOPUSA.com 11.30.2015)
The 2016 season of the Pro Mazda Championship Presented by Cooper Tires is still months away, but the offseason training is in full swing. From fitness to karting to time in the race car, the schedule has been packed.
Prior to the Thanksgiving holiday, the series had two days of testing at the Circuit of the Americas. This F1 track is located just outside of Austin, Texas, and it is fantastic. It was also a great opportunity to get the students together from Texas A&M's Formula SAE Team. These guys are hard at work designing their 2016 race car, so I invited them down to the track to learn what real racing is all about.
It was a fantastic day! We tried so many different things with the car, and we explained to the students what we were trying to do. In the process, we also finished in the Top 10 on the time sheets, so that's not a bad bonus either.
The students were able to get in the car and get a feel for how the controls are laid out and what's available to the driver inside the cockpit. The car was also hooked up to the computer, so students could see what braking in a race car feels like. They checked out the wings, the suspension, and how we gather and analyze data. There was so much to go over, and the day flew by.
The students heard presentations from my engineer, Kevin Harrison, at World Speed Motorsports. They also heard from my guest coach: current Indy Lights champion and new IndyCar driver Spencer Pigot. Spencer was fantastic with his feedback and greatly helped everyone understand what it takes to get the most out of the car.
The track was so challenging, but what I liked most about the weekend, was that we tried so many different things with the car. Some worked, some didn't, but that's the whole point about test days. It's not just about going fast; it's also about learning what changes (mechanical or aerodynamic) help or hurt the car/driver combination.
The offseason has also been filled with endurance kart training and a few races. The last race had me 6/10ths of a second off of pole position, and I finished second. I was really pleased with the result, and I plan to do more in the coming months. Now, the big challenge is to solidify sponsorships for the 2016 season, so we can keep racing and keep the Texas A&M educational experiences going as well.