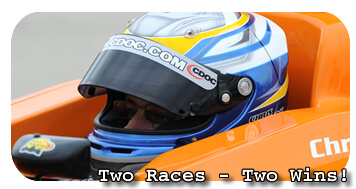 Chris Cumming took both pole positions and both wins this past weekend at the Star Mazda presented by Goodyear double header at Autobahn. This was Cumming's first race weekend after returning to World Speed Motorsports. "It was exactly what we came here for," stated Team Owner Telo Stewart. "Chris and the crew did a great job all weekend, and we were able to win it all."
Cumming, who lives in Vancouver, will miss the next two rounds as he prepares to participate in the Canadian Ironman event.
With six wins so far this season Cumming is currently leading the Expert championship. Cumming has won multiple races and two major championships with the World Speed Motorsports team.
"We have to thank Andy Brown who agreed to lease Chris a car for the weekend on very short notice," added Operations Manager Mark Milazzo. "We got the call that Chris needed a car and within 24 hours the shop team got Andy's car updated to all of the 2009 specs and loaded into the transporter. I was proud of everyone's effort both before and during the weekend."
Cumming and World Speed will return to the Star Mazda presented by Goodyear championship for the two final weekends at Road Atlanta and Mazda Raceway Laguna Seca.