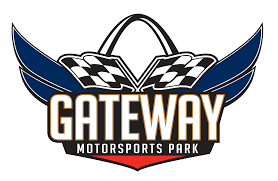 World Speed Motorsports and Atlantic veteran driver, Case Montgomery captured the pole position on the 1.27 – mile oval at Gateway International Raceway, for round 11 of the CART Toyota Atlantic Championship series, making this the third pole in the history of the World Speed Motorsports team.
"We are really happy about Case being on pole. We've had a competitive package all season and when we added a veteran driver like Case, it was a winning combination," said West, who clinched two poles in 1997, one at Road America and the other at Homestead – Miami Speedway. "The guys have been working hard all season and once again they've put together a great car for Case and Aki."
"The team put together a great oval car for me at World Speed. It looked like I was turning into an alley going into turn one. I think I was flat all the way around, but the data will be the final judge of that. I had a little hiccup in turns one and two and another in three and four. This is the best oval car I have ever had in my career," said Montgomery, who ran in his last oval race at Milwaukee in '98 where he ran as high as 5th. "This is my first pole on an oval, usually I've had to drive my way to the front during an oval event. It's awesome to be back in the car and I'm thankful to Chuck and Rick Waddell of Northwest SpeedWerx, for this opportunity." Case turned a fast time of 30.764 with a speed of 148.615 mph.
The single-car qualifying session placed teammate Akihiro Asai, driver of the #15 World Speed – ProStaff/Walker Racing swift, 8th on the grid for tomorrow's race.
"Aki is doing a fantastic job. Top ten is unusual for a rookie driver on an oval. This is his second oval of his professional career and I'm really proud of how far he has come in just a short time," said West."I'm really feeling more and more comfortable with ovals. My first oval was in Milwaukee early this season and it takes some time getting used to. This track is very fast and very bumpy," said Aki, who ran as high as 3rd in this morning's practice session. "The guys gave me a great car and I'm very grateful to them for all of their hard work."
Race day, Saturday, September 16, begins with a 15 – minute warm-up session at 8:00 a.m., before the start of the 50-lap Atlantic race at 3:15 p.m.