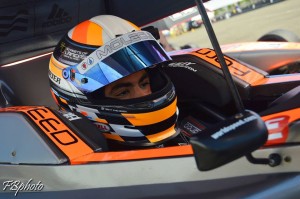 It was announced today that Carter Williams of Clovis, California will drive for World Speed Motorsports for the second straight season in the Formula Car Challenge presented by Goodyear Championships.
The 18-year-old Williams made a highly successful transition from karting to his first season racing cars in 2016, winning five FCC FormulaSPEED races and winning the three-event, six-race Triple Crown National Championship. "It's great to be offered a second season by World Speed to race with the VMB Scholarship," Williams said. "Winning the West Coast and Triple Crown National Championships will be the main focus and I'll be building on my experience to perfect my driving style in the car to get ready for the Mazda Road to Indy Shootout. The main part of my effort will be taking the fundamentals to the highest level. I would say I'm close in all aspects and need to learn that last little bit to be best prepared for the next series in the ladder, USF2000. I am close to finding the limit and the goal for 2017 is doing this right every time and every lap in the car."
Williams hopes to compete in the Mazda Road to Indy Scholarship Shootout, which provides $200,000 for the USF2000 Series, following the 2017 season. "The USF2000 scholarship would be a big boost to my career," Williams said. Additionally, Williams hopes to be considered for the Team USA Scholarship founded and organized by journalist Jeremy Shaw. It annually sends two American drivers to England to drive in prestigious Formula Ford events at the end of the season. "It's definitely a goal to be a recipient of the Team USA Scholarship," Williams said. "That would be really cool to compete in those major British events."
Williams will be the veteran at World Speed/VMB and Courtney Crone of Corona, California joins the team as a rookie driver for the 2017 season. "We are really happy with how the VMB program has evolved over the years and feel fortunate to be part of such a rare program," WSM team owner Telo Stewart said. "The two driver senior/junior driver format is something we decided to move toward over a year ago and we are glad that with Carter returning, it is now a reality. He is the perfect senior team driver."
VMB President Steve Brisentine also endorses the Senior/Junior concept as a move forward for the program and welcomes Williams back to the WSM team. "VMB Driver Development is very pleased to have Carter return to our team as our Senior Driver this season," Brisentine said. "Last season was very pleasing for our team to watch Carter and Jonathan (Sugianto) interact and compete as teammates. They pushed each other to become better drivers each weekend. We are confident that Carter Williams will step up as the Senior Driver on our team and add his leadership role to his racing resume."
The opening race of the 2017 season will take place on March 18th-20th at Sonoma Raceway in California.