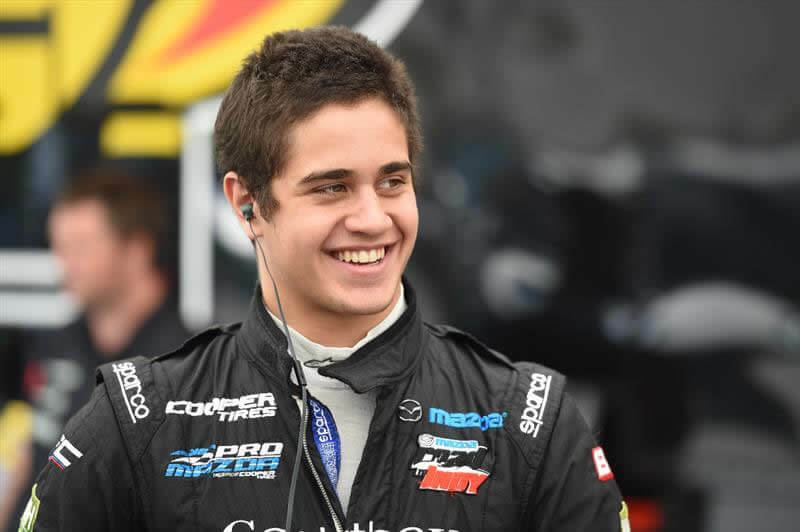 World Speed Motorsports announced today that Alessandro Latif will be joining their squad for the 2015 season. Latif is a young, but very experienced racer who has had success in karts, formula cars, sedans, and prototypes.
"We are excited to have Alessandro join us for the Pro Mazda Championship presented by Cooper Tires in 2015," stated WSM Team Owner Telo Stewart. "We have had a solid amount of testing and feel good about where we are going into the season. He still needs to learn the tracks and the series is very competitive, but we know we will do well this year with him in the #14 car World Speed Pro FM."
Alessandro has won at numerous club and international kart competitions over the world. When he was younger a conscious decision was made to focus on schooling, which meant that Alessandro often missed championship rounds. Now that he is out of school, Alex is planning to contest every race on the PMC schedule. He will be teammates with 2014 PMC Expert Champion Bobby Eberle, who is returning to the series in 2015 to defend his title.
"There is a very clear path laid out from Pro Mazda through to the pinnacle of the IndyCar Series, which is hugely motivating – and you need only look at somebody like Jack Hawksworth, who used to coach me back in my karting days, to see what can be achieved," stated Latif.
"A lot will be new to me this year so I'm not putting any undue pressure on myself to get instant results, but I have a great team behind me in WSM and with their support and a lot of hard work, hopefully one day I can go on to follow in Jack's footsteps by joining the IndyCar grid."
Alessandro Latif Racing Highlights:
2006 – Started karting
2007 – UK Rotax Super One Minimax
2008 – UK Rotax Super One Minimax
2009 – UK Rotax Super One Junior Max, European Champs
2010 – UK Rotax Super One Junior Max, European Champs
2011 – UK Rotax Super One Junior Max, European Champs, Florida Winter Tour
2011 – KF2 WSK, FIA World U18 Kart Championships
2012 – Rookie year in Formula Renault Eurocup.
Rookie year in CN sports prototypes.
Won rounds – German SportsCar Championships & the VdeV.
Youngest ever outright winner of VdeV sports prototype race.
2013 – 6 hours of Mugello race win
2013 – 12 hours of Abu Dhabi class win
2013 – Audi DTM young driver test
2014 – 5th in GTD category in Rolex 24 at Daytona