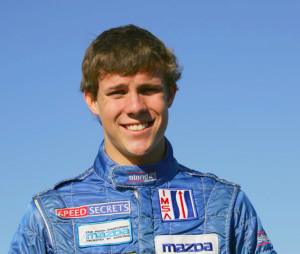 In what will be World Speed Motorsports' first full season back in the Star Mazda series since winning the championship in 2001, Adrian "Ace" Carrio will return for his second season in the Star Mazda Series presented by Goodyear in 2006. He ran most of 2005 with World Speed Motorsports and both he and the team are looking forward to returning in a strong championship position.
Carrio entered the Star Series with a number of karting championships and a year of Formula TR experience under his belt but knew that with a series as competitive as the Star Mazda Series that any serious program would span two seasons. "We had a two year plan from the start, in year one our goal was to finish the season in the top ten and learn as much as we could. We then wanted to pool all of the knowledge from the first year over this winter to put together a strong effort to win the series in 2006," said Carrio, "I think with Mike Doyle engineering, Emile Tabb as the crew chief and all of the rest of the team returning we are in good shape and I am looking forward to a great season."
The World Speed Motorsports team is as excited about 2006 as Carrio. "We are thrilled to be back in the Star Mazda Series full time, and to be running such a talented driver," said Telo Stewart the owner of World Speed Motorsports, "not only is Ace great on the track but he and his family are a pleasure off the track, they are a valuable part of the team." Also returning as part of the 2006 effort is Speed Secrets' driver coach John Olsen. "In 2005 Ace did an outstanding job being such a young driver in such a competitive series," mentioned Olsen, "he and the team are ready for this season, it's going to be a really fun year!"
The first race of the 2006 Star Mazda Series will be held next week at Sebring International Raceway in Sebring Florida on Friday March 17th in support of the prestigious 12 Hours of Sebring.