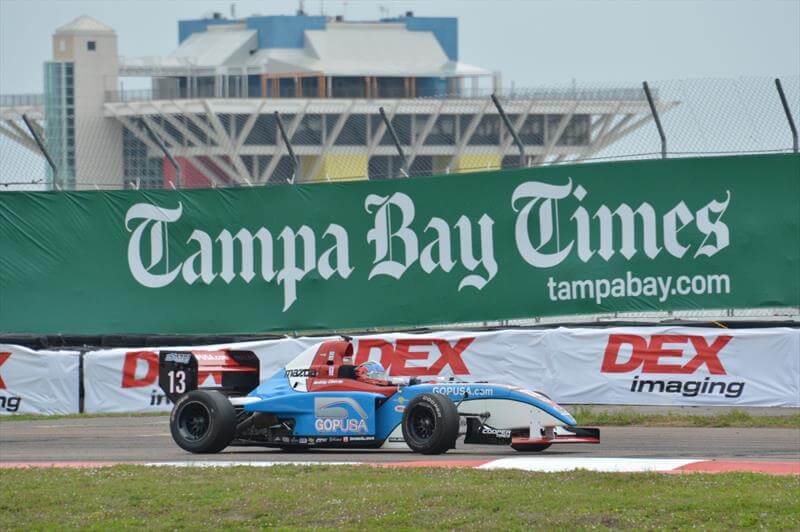 Bobby Eberle, the 2014 and 2015 Pro Mazda Championship Expert Champion, is set to start his 3rd full season in the Pro Mazda Championship Presented by Cooper Tires. Rounds one and two of sixteen will be fought this weekend on the same course the Verizon IndyCar Series will battle on this Sunday.
"It's great to have Bobby back for 2016. We've had a lot of success together, and the team is looking to improve on our 2014 and 2015 showings," stated Team Owner Telo Stewart. "Bobby is in the best shape he has ever been in, and he is mentally and physically prepared to compete. We are ready to go racing!"
"St. Petersburg is one of my favorite tracks, and I'm so excited to be starting a new season with World Speed," added Eberle. "The off season has been filled with training, and now the team is ready to go.  I look forward to working with Kevin Harrison on the set-up, and I know we will expand on were we left off in testing.  We were really moving in the right direction.  The field is stacked, but we are ready to take them on!"
The Pro Mazda cars will take to the 1.8-mile, 14-turn street circuit on Friday, March 11, for a pair of half-hour practice sessions at 8:05 a.m. and 1.35 p.m. Qualifying will follow on Saturday at 7:30 a.m., followed by Race One at 10:50 a.m. Race Two will start immediately following the Verizon IndyCar Series event at 4:30 p.m. on Sunday. Live streaming shows of all sessions will be available at promazda.com, indycar.com and on the Road To Indy TV App.
Event Details: http://promazda.com/schedule/2016-season/rounds-1-2
About Pro Mazda: The Pro Mazda Championship Presented by Cooper Tires debuted in 2013 as a new series, replacing the Star Mazda Championship which ceased operation in 2012 after 22 years. The series is sanctioned by INDYCAR and owned and operated by Andersen Promotions. It is the second official step on the Mazda Road to Indy ladder system with the series' champion awarded a scholarship package from Mazda to advance to Indy Lights Presented by Cooper Tires competition the following year. For more information, visit www.promazdachampionship.com.
About Mazda, Mazda Motorsports: Mazda Motorsports boasts the most comprehensive auto racing development ladder system of any auto manufacturer in the world. The Mazda Road to Indy includes USF2000, Pro Mazda and Indy Lights racing categories with Mazda power. In sports car racing, a similar ladder system involves a number of racing series, culminating with the Mazda Prototype team which races in the top level of IMSA sports car racing in North America. In the grassroots categories, more Mazdas race on any given weekend in North America than any other manufacturer.
Mazda North American Operations is headquartered in Irvine, Calif., and oversees the sales, marketing, parts and customer service support of Mazda vehicles in the United States and Mexico through nearly 700 dealers.  Operations in Mexico are managed by Mazda Motor de Mexico in Mexico City.  For more information on Mazda vehicles, including photography and B-roll, please visit the online Mazda media center at www.mazdausamedia.com.
About Cooper Tire & Rubber Company: Cooper Tire & Rubber Company, together with its subsidiaries, is a leading designer, manufacturer and marketer of innovative, great-performing tires that people depend on for all of life's road trips, whether on city streets, off-road adventures or high-speed tracks. In fact, Cooper Tire is proud to sponsor and race in all three levels of the Mazda Road to Indy development program within the IndyCar racing series. Cooper tires can also been seen on the track as a sponsor of the IMSA Prototype Lites Series, and competing in the short course off-road TORC Series.  Headquartered in Findlay, Ohio, Cooper, together with its subsidiaries, has manufacturing, sales, distribution, technical and design facilities in 11 countries around the world.  This year, as we head into our second century in the tire industry, Cooper is looking toward a future where innovation will continue to drive our products and our products will continue to drive the world. To connect with Cooper Tire, visit www.coopertire.com,www.facebook.com/coopertire or www.twitter.com/teamcoopertire.